Refrigerator Dill Pickles

Dill pickles are my favorite variety of pickles, it's actually really the only one that I like. I just can't seem to like the "bread & butter" pickles as many times as I try. Making your own pickles from home couldn't be easier with this no canning required method. You only need some harvest ready pickles, or store bought pickles and a few other fresh ingredients. You can ready to eat pickles in about 4 days and they will keep for about 1 -2 months, if they even last that long. 🙂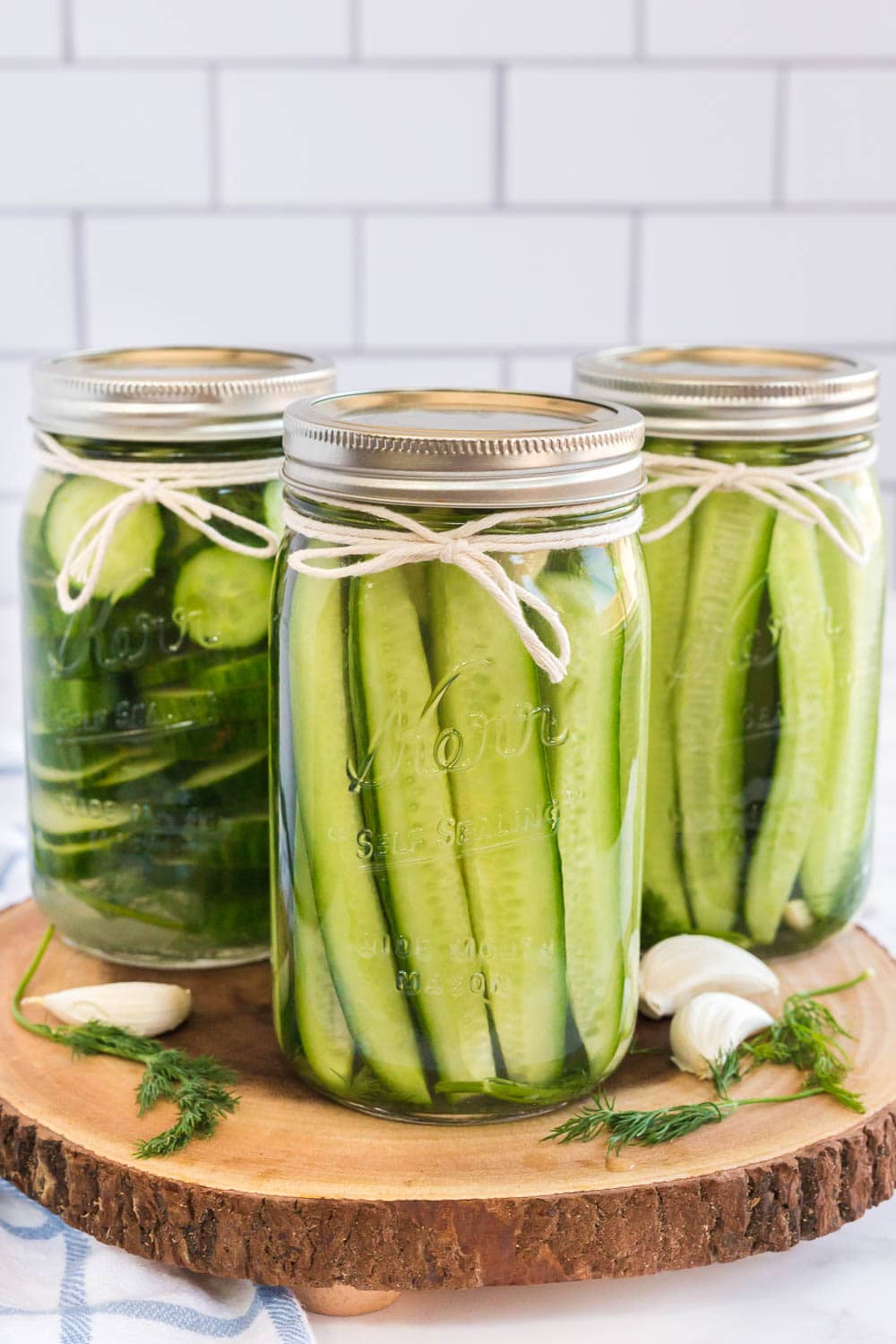 THE BEST CUCUMBERS FOR PICKLING
Regular Cucumbers are the normal cucumbers you can find at the grocery store, these typically have large seeds and tend to be more watery.
English Cucumbers are my preferred pickles to use when making refrigerator dill pickles. They are crips and often have very small seeds. These are the long thin cucumbers typically found wrapped in plastic. You can even use the mini versions.
Pickling/Kirby Cucumbers are harder to find in grocery stores but if you come across them in a farmers market their crisp skin makes these a perfect pickle option!
FRESH INGREDIENTS NEEDED FOR DILL PICKLES
Cucumbers, my preference is English cucumbers or Pickling/Kirby
Fresh Garlic Cloves
Fresh Dill
Sugar
Salt
Vinegar

HOW TO MAKE REFRIGERATOR DILL PICKLES
Prepare brine, simmer for 10 minutes and allow to cool to room temperature.
Add fresh garlic cloves and dill to bottom of jars
Pack jars with either spears or slices of cucumbers
Add more garlic and dill to top of cucumbers.
Pour brine over cucumbers and add lid.
Refrigerate for 3-4 days to let the brine do it's work before enjoying. 🙂

For more delicious veggie ideas try these: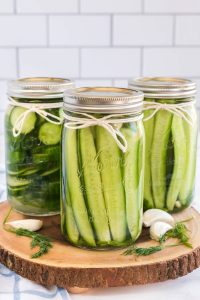 Refrigerator Dill Pickles
These Refrigerator Dill Pickles are a delicious recipe for homemade pickles, no canning required! You only need a few ingredients and your pickles will be ready in as little as 4 days! 
Ingredients
10-12

cucumbers

we prefer English or Kirby/Pickling

8

cups

water

1/3

cup

sugar

1/3

cup

salt

2

cups

white vinegar

6

garlic cloves

4-5

Dill Sprigs
Instructions
Pour water, sugar, salt, and vinegar into a large pot.

Bring to a boil and simmer for 10 minutes.

Cool to room temperature.

Put a sprig of fresh dill and 3-4 garlic cloves in the bottom of each quart sized jar.

Pack with sliced or speared pickling cucumbers.

Put 3 garlic cloves and a small sprig of dill on top.

Pour cooled brine mixture over cucumbers and place lid on top.

Ready to eat in 4 days for the best tasting cucumbers!

Store in refrigerator for 1-2 months.