Lemon Coconut Poppyseed Waffles
Most Saturday mornings we gather around the table for a family breakfast. It's something my husband and I and all three of our kids look forward to every week. It's the perfect way to wrap up a busy school week and to start our weekend. We are always trying different breakfast ideas like our chocolate chip muffins, baked oatmeal, and our easy breakfast casserole. These Lemon Coconut Poppyseed Waffles were a combination of some of our favorite flavors and they turned out even better than we had hoped!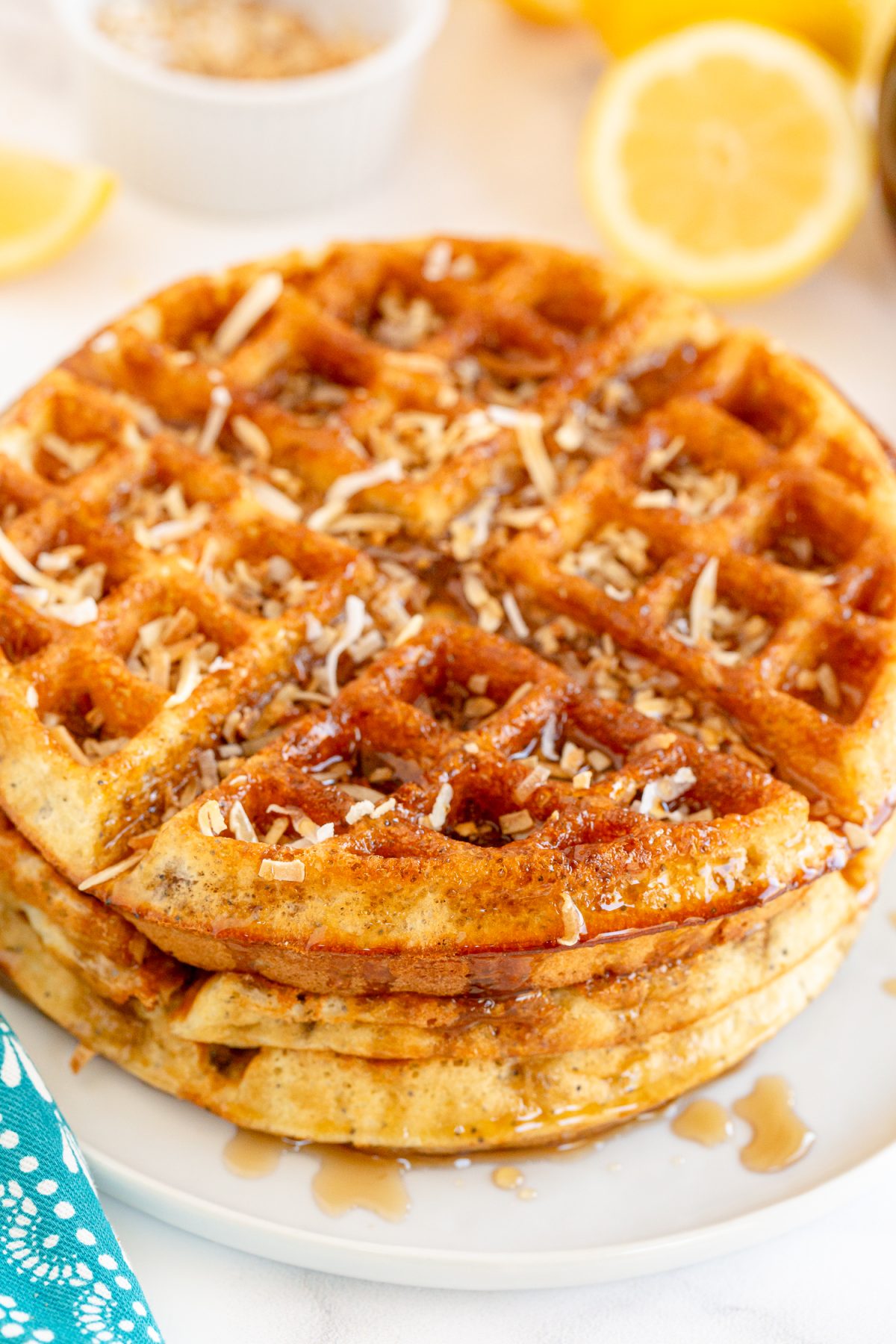 Ingredient Needed to Make these Lemon Poppyseed Waffles
These delicious waffles require a few extra ingredients you may not have laying around because of the lemon zest. Everything can be found at your local supermarket.
all-purpose flour
baking powder
baking soda
salt
sugar
Lemon zest of 2 lemons
melted coconut oil
large eggs
coconut extract
fresh lemon juice
milk
poppy seeds
Use regular cow's milk or any milk of choice. I have known people to use coconut milk or almond milk as alternatives. Any kind of milk will do just fine in these lemon poppy seed waffles.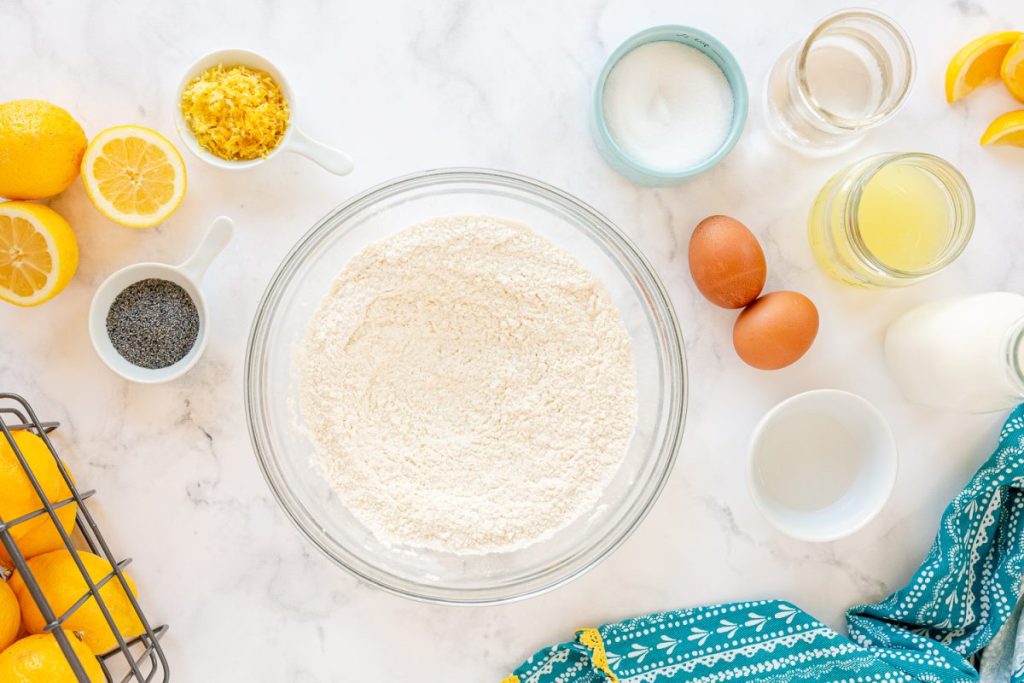 Instructions for Making the Delicious Waffle Recipe
Before starting the process, be sure to preheat your waffle iron so it's ready to go when the batter is finished.
In a large bowl combine your dry ingredients. This includes your flour, baking powder, baking soda, and salt.
Next, in a small bowl, mix together your lemon zest and sugar. Once combined, add this to your flour mixture.
In a separate bowl, mix together your wet ingredients. This includes your coconut oil, eggs, coconut extract, fresh lemon juice, and milk. Combine this with your dry ingredients and stir in the poppy seeds. Be sure to add more milk if the waffle batter is too thick.
Pour the batter into a preheated hot waffle iron until golden brown.
Top with coconut, berries, syrup, and any other toppings you desire. You may even like topping them with shredded coconut if you are a coconut fan!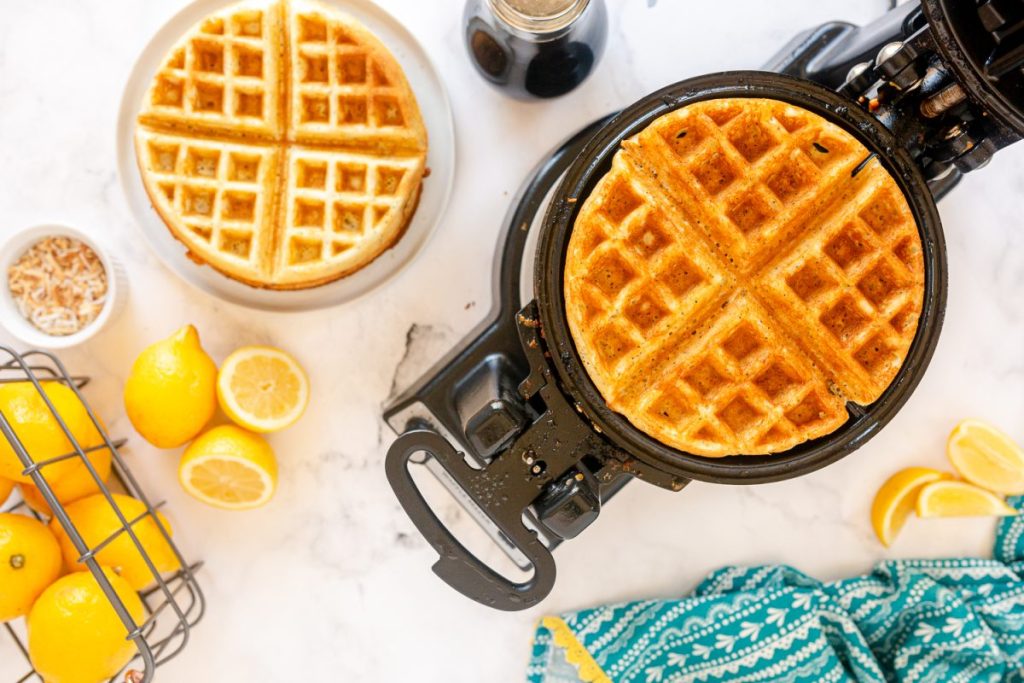 They have the perfect blend of lemony tartness, sweet coconut, and a touch of nuttiness from the poppyseeds. My husband topped his Lemon Coconut Poppyseed Waffles with honey but the kids and I just used regular maple syrup. You could even top them with a delicious berry syrup or fresh berries such as cut-up strawberries or blueberries like we do with our Lemon Ricotta Pancakes. 
Tips for Making these Waffles:
The magic of these lemon coconut poppyseed waffles is in the lemon zest. Don't skimp on it! It looks like a lot of lemon zest but it really adds such a delicious flavor that blends beautifully with the coconut extract.
I've always been a sucker for any type of bread or dessert that is dotted with poppy seeds so we added some to our batter. It adds great flavor with just a hint of nuttiness to the waffles but feel free to leave them out if your family doesn't like them.
For this recipe, we used a Belgium waffle maker and were able to get 4 large waffles out of the batter, which works perfectly since my kids only eat half of one 🙂 Feel free to use a regular size waffle maker to get more waffles.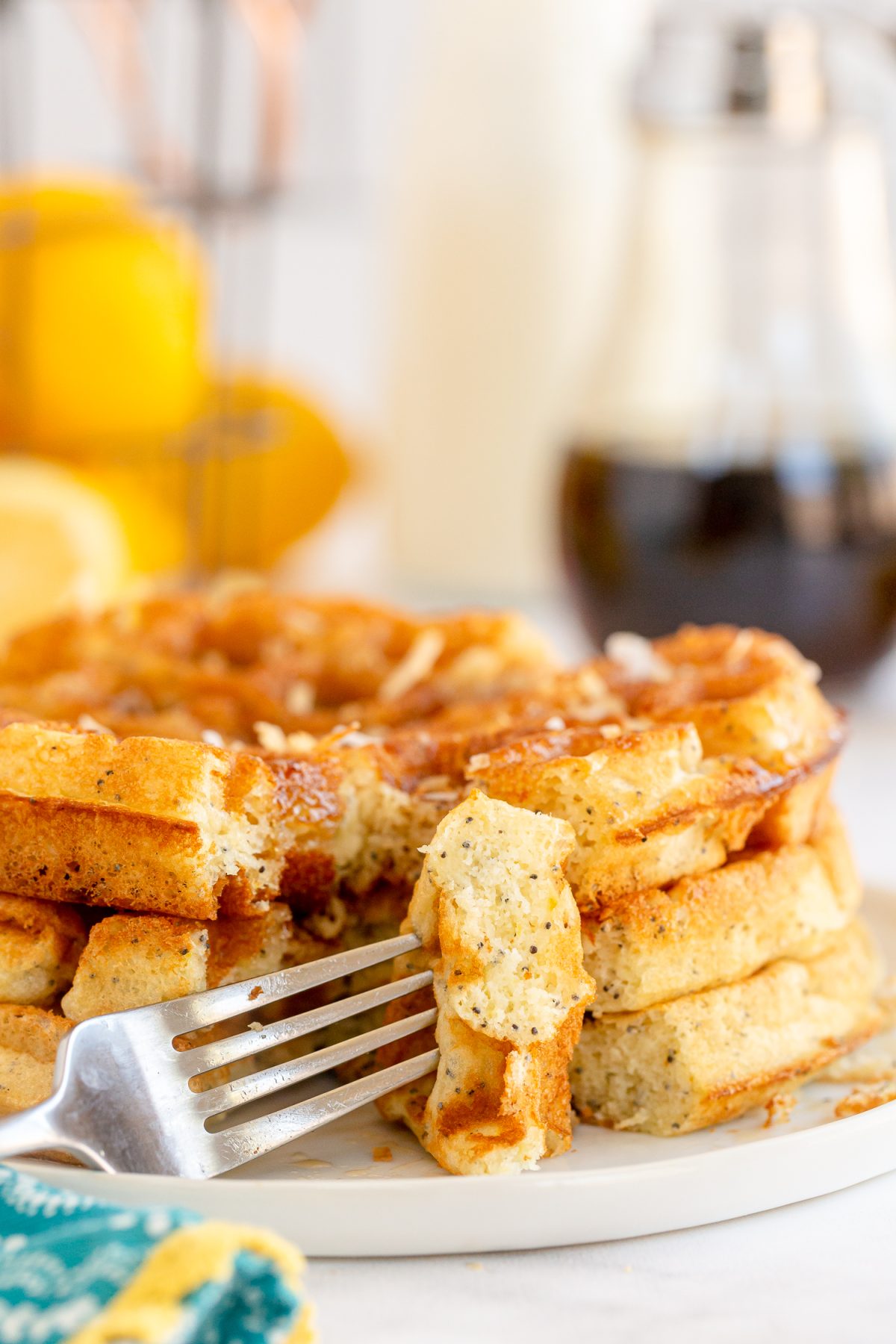 Freezing and Storing Lemon Coconut Poppyseed Waffles
If you have extra batter after finishing your morning routine, store the batter in the fridge for 3 – 4 days and make them fresh the next day or later in the week. Alternatively, make all of the waffle batter and freeze the waffles by wrapping them in cling wrap and aluminum foil. Place them in a freezer bag for extra protection. They will keep in the freezer for a few months. This makes an easy on-the-go breakfast for any day of the week and any month of the year. Pop them straight into the toaster to warm them up and it's as if you just make them that day!
More Waffle & Breakfast Recipes
Looking for more yummy waffle recipes? On our sister site, Made to be a Momma, You may like our Lemon Raspberry Waffles and our fun Waffle Charcuterie Board. They make any breakfast delicious and are easy for large gatherings.
Kids will go crazy for Rainbow Pancakes and this Classic French Toast. Make them on a normal weekend, for a special occasion, or just for fun. They will appreciate your hard work. Just add your favorite toppings and enjoy!Be sure to try our Orange Blueberry Sweet Rolls and our Lemon Raspberry Scones. These make great baked goods for any event as well as a great on-the-go breakfast for busy mornings.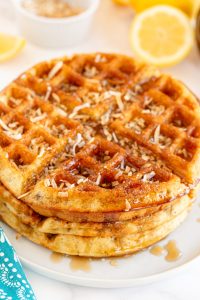 Lemon Coconut Poppyseed Waffles
The perfect blend of lemon tartness, sweet coconut and poppyseed nuttiness all in a delicious Belgium style waffle. 
Ingredients
1 1/2

cups

all purpose flour

2

tsp

baking powder

1/2

tsp

baking soda

1/2

tsp

salt

3

TBSP

sugar

lemon zest of 2 lemons

1/3

cup

oil

can you canola or coconut

2

eggs

1

TBSP

coconut extract

1/3

cup

fresh lemon juice

1 1/4

cup

milk

3

tsp

poppy seeds
Instructions
In a medium bowl mix together flour, baking powder, baking soda and salt. Set aside.

In a small bowl mix together sugar and lemon zest. Add to flour mixture.

In a separate bowl whisk together coconut oil, eggs, lemon juice and milk. Combine with dry ingredients.

Stir in poppy seeds. You can add a touch more milk if batter is too thick. 

Pour into preheated waffle iron and bake as instructed on your waffle iron.