This recipe is our favorite homemade chocolate cake recipe for so many reasons! This flavorful and moist cake is extremely delicious and it's an easy recipe! It stays fresh tasting for days and we hardly ever have leftovers. It is perfect for any time of year for celebrations, birthdays, parties, and get-togethers. Everyone is sure to love this homemade cake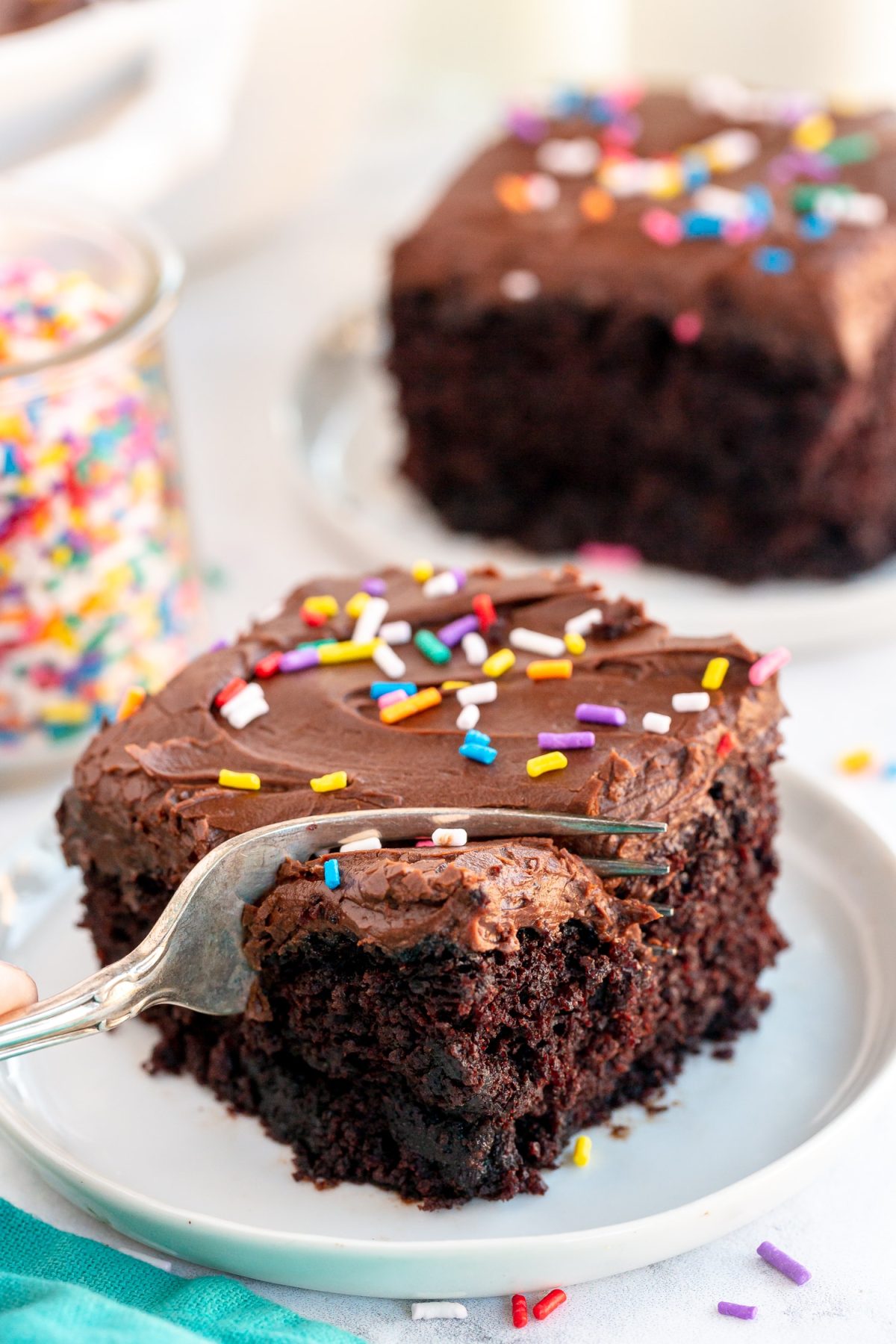 Homemade Chocolate Cake Recipe
This chocolate cake recipe is one of our all-time favorite cake recipes. This recipe is a requested birthday cake base and has even been made for some of our closest friends' weddings. It's flavorful, moist and stays fresh for days when stored properly. Whether you prefer a white buttercream frosting or a chocolate frosting this cake is sure to be a hit!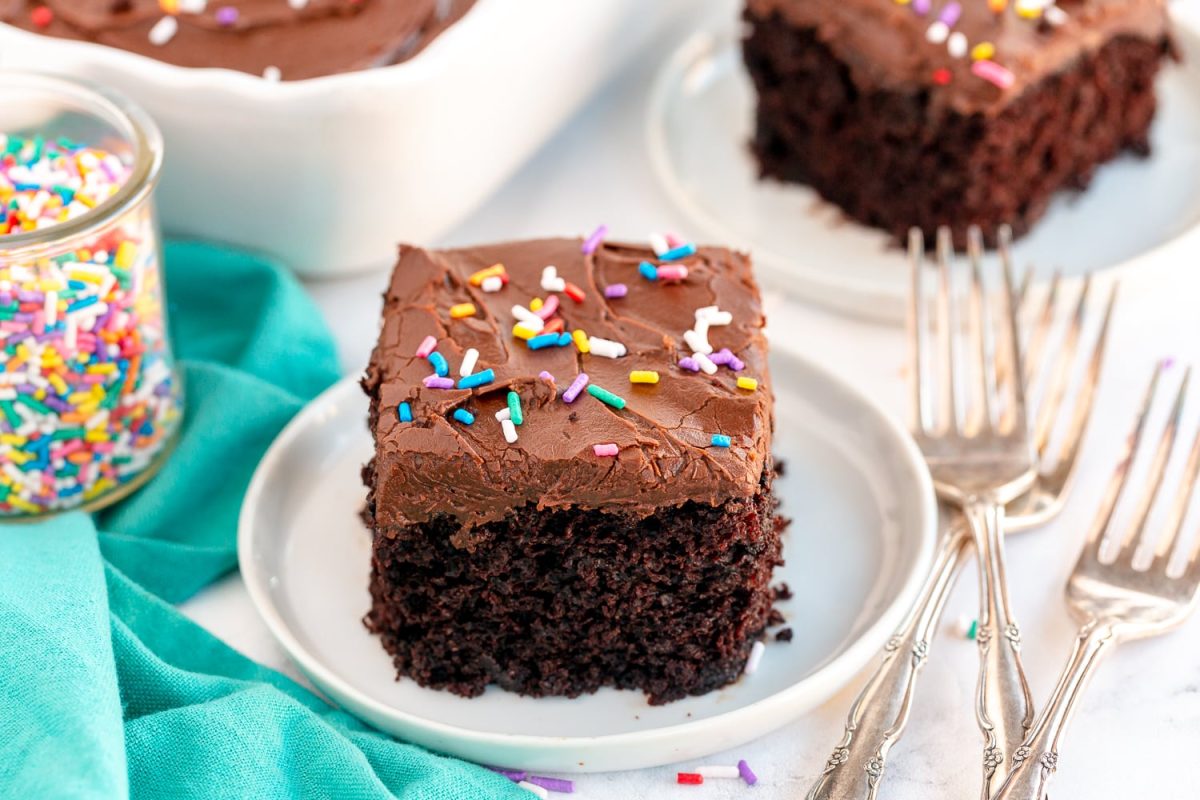 The Best Chocolate Frosting for Homemade Chocolate Cake
You only need a few ingredients to make a delicious chocolate frosting that goes perfectly with this chocolate cake recipe. If you prefer buttercream frosting you can use that too! My husband is personally a fan of chocolate on chocolate.
melted butter
cocoa powder
powdered sugar
milk
vanilla extract
To start, whisk together the melted butter and cocoa powder until fully combined.
Once combined, whisk in your remaining ingredients until light and fluffy.
To reach your desired consistency, add a splash more of milk or a dash of powdered sugar.
I like to make the chocolate frosting while the cake is baking. This way, it is ready to go as soon as your cooled cakes are ready. If you make a single layer cake, just dump the frosting on top and spread around with a butter knife or spatula. If you make a layered cake, use your utensils to frost the top and sides of the cake carefully. The end result is the best cake you've ever had.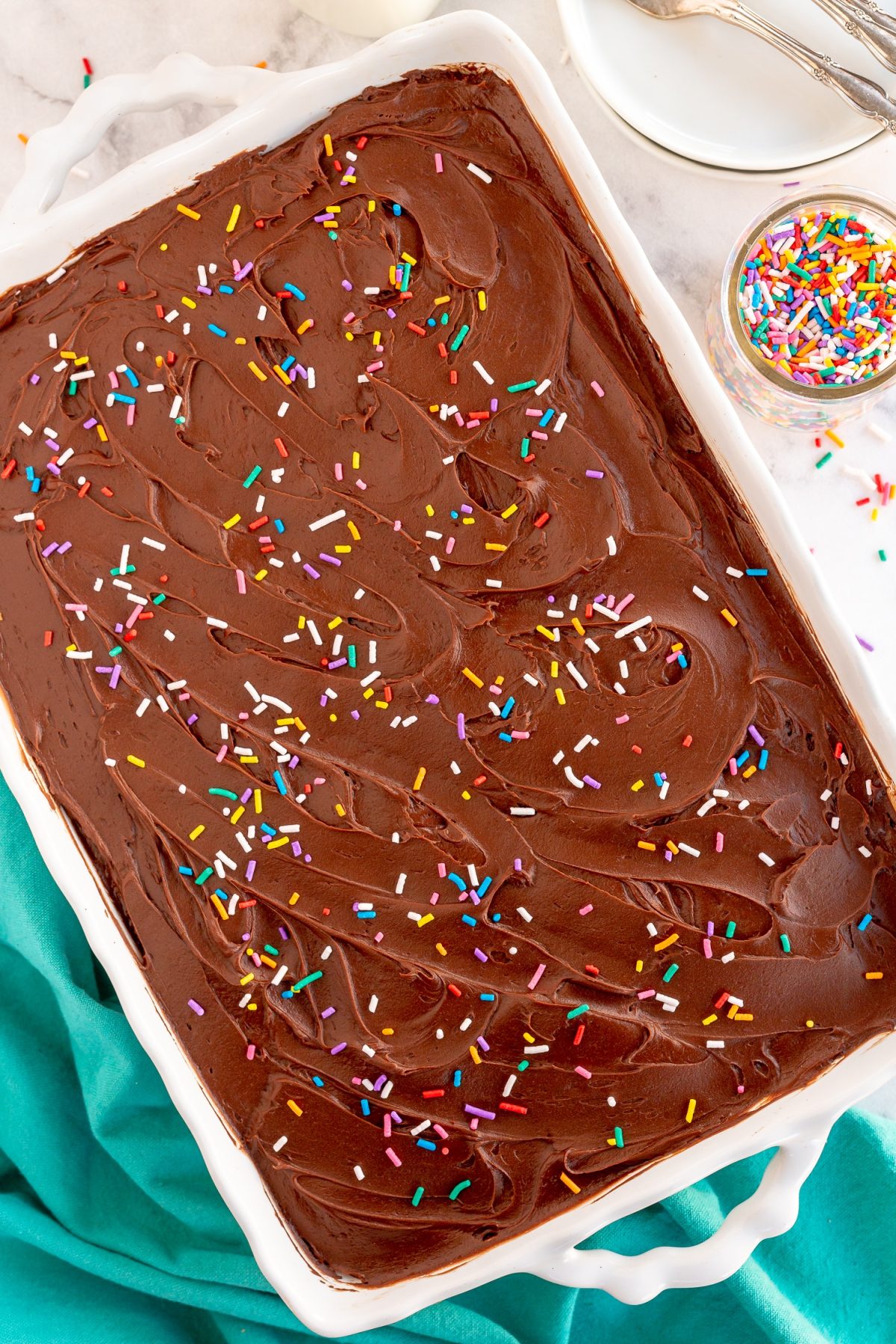 How to make Homemade Chocolate Cake
Preheat your oven to 350 degrees
Mix the dry ingredients together in a medium bowl. This includes flour, sugar, baking soda, baking powder, salt, and cocoa.
In a separate large bowl, mix together the wet ingredients. This includes canola oil, eggs, and cold water. Once combined, add the dry ingredients to the larger bowl. Mix until smooth.
Slowly pour in the boiling water and whisk the mixture until smooth.
Pour batter into a 9×13 inch baking pan. Bake for 25-30 minutes or until a toothpick inserted into the center of the cake comes out clean.
Cool completely before frosting so it doesn't melt.
Use your favorite chocolate buttercream frosting or the chocolate recipe below. It uses simple ingredients and is perfect on a chocolate sheet cake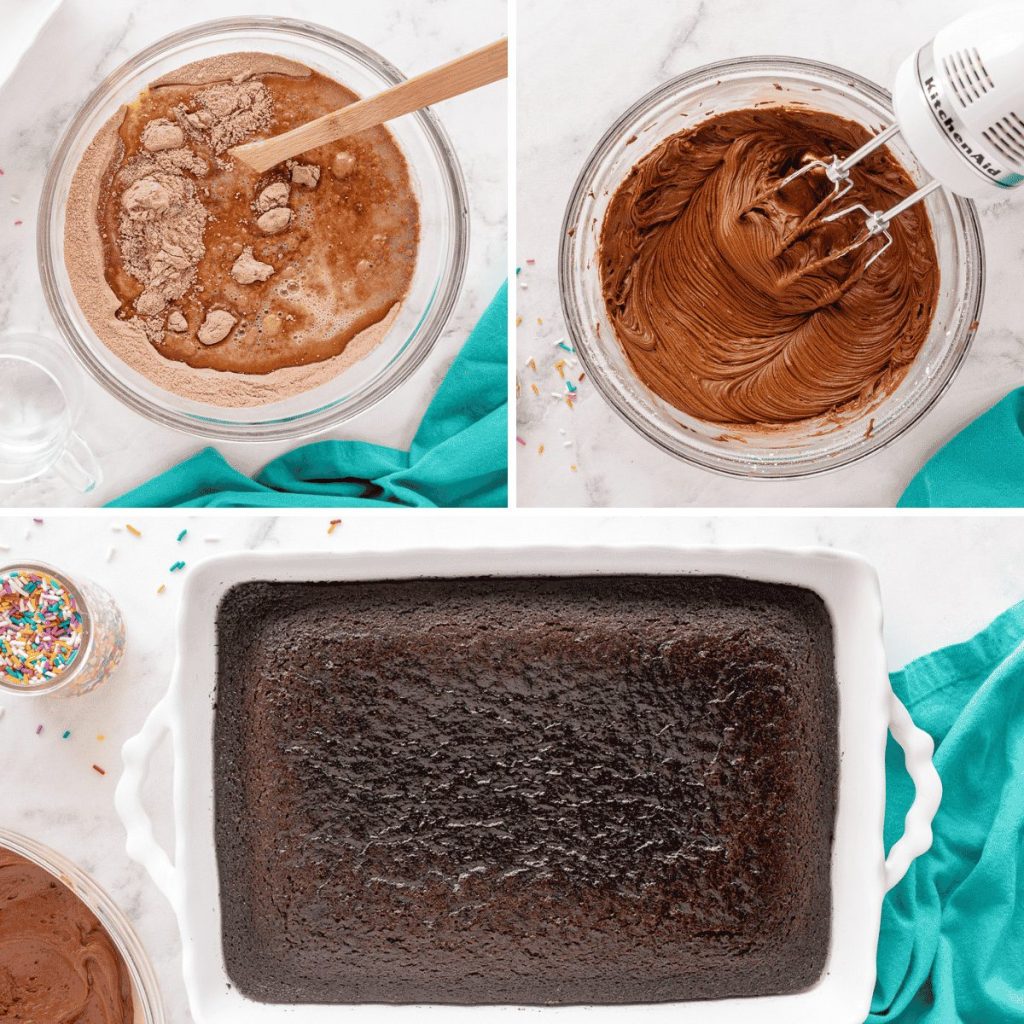 Can I Make This Into a 2 Layer Cake?
Yes! I prefer to make my cake in a 9 x 13-inch baking pan for no other reason than I typically don't want to mess with a double-layered cake, as pretty as they are. When planning birthday parties for my kids I much prefer to go the easier route of baking the cake in one pan and only frosting one layer. Adding sprinkles as decoration is all we need. If you choose to bake your cakes in round cake pans, leave them in the pans for about 10-15 minutes before removing and allowing them to cool the rest of the way. Then they are good to frost and layer as you wish! My only suggestion would be to watch the cake closely as they bake as the times may vary a little bit because of the change in cake pan size.
Can This Recipe Be Used for Cupcakes?
You can definitely turn this recipe into a cupcake recipe. Chocolate cupcakes are some of our favorites. Just pour the batter into cupcake tins and bake for 12 to 15 minutes. Keep an eye on them and insert a toothpick or tap the top of the cupcake to see if they are done. If they bounce back, they are ready to come out of the oven.
How To Store Chocolate Cake
If you have already frosted your cake, it will keep for about 5 to 6 days covered on the counter. We cover ours with plastic wrap or a cake cover. It will keep for a week or more in the fridge if you can fit it. Covering the cut edges of the cake is important so it doesn't dry out, so be sure to use an airtight container or some type of wrap.
Want to store your cake for even longer? Wrap your cake in two layers of cling wrap and then with a layer of aluminum foil. Store in your freezer for several months and you won't lose any freshness. Freezing a cake actually traps in moisture and improves the texture. The best way to thaw the frozen cake is to remove it from the freezer the night before you want to eat it and let it reach room temperature while still wrapped on the counter.
Enjoy this easy, rich chocolate cake recipe! Looking for more chocolate recipes, check these out: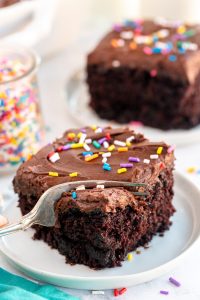 Homemade Chocolate Cake
This Homemade Chocolate Cake Recipe is our favorite chocolate cake! This cake is flavorful, moist and so delicious! It stays fresh tasting for days and we hardly ever have leftovers. 🙂
Ingredients
Chocolate Cake
2

cups

flour

2

cups

sugar

2

tsp

baking soda

2

tsp

baking powder

3/4

cup

unsweetened cocoa powder

1/2

tsp

salt

1

cup

canola oil

2

eggs

1

cup

boiling water

1

cup

cold water
Chocolate Frosting
1/2

cup

butter, melted

2/3

cup

unsweetened cocoa powder

3

cups

powdered sugar

1/2

cup

milk

1

tsp

vanilla
Instructions
Chocolate Cake
Whisk together flour, sugar, baking powder, baking soda, salt and cocoa in a large mixing bowl.

Mix together canola oil, eggs, and cold water. Add to flour ingredients and mix until smooth.

Slowly pour in boiling water. Whisk until smooth.

Place in a 9×13 inch pan. ( You can also bake in two circle pans) Bake at 350 degrees for 25 – 30 minutes or until a tooth pick in the center comes out clean. Cool completely before frosting.
Chocolate Frosting
Whisk together the butter and cocoa powder.

Use an electric mixer or a stand mixer to beat in the powdered sugar, milk, and vanilla until light and fluffy. I beat the frosting for several minutes.

Once the cake has cooled completely, frost with chocolate frosting.