Growing up, a classic dish served at a potluck, a summer picnic, or a large gathering was tuna macaroni salad. The cool noodles and the delicious tuna made for a fresh snack or side dish in the summer heat. This recipe was always made slightly differently by everyone, but we've found our favorite recipe over the years. I'd love to share the simple side dish with you. Continue reading to see how easy it is to make!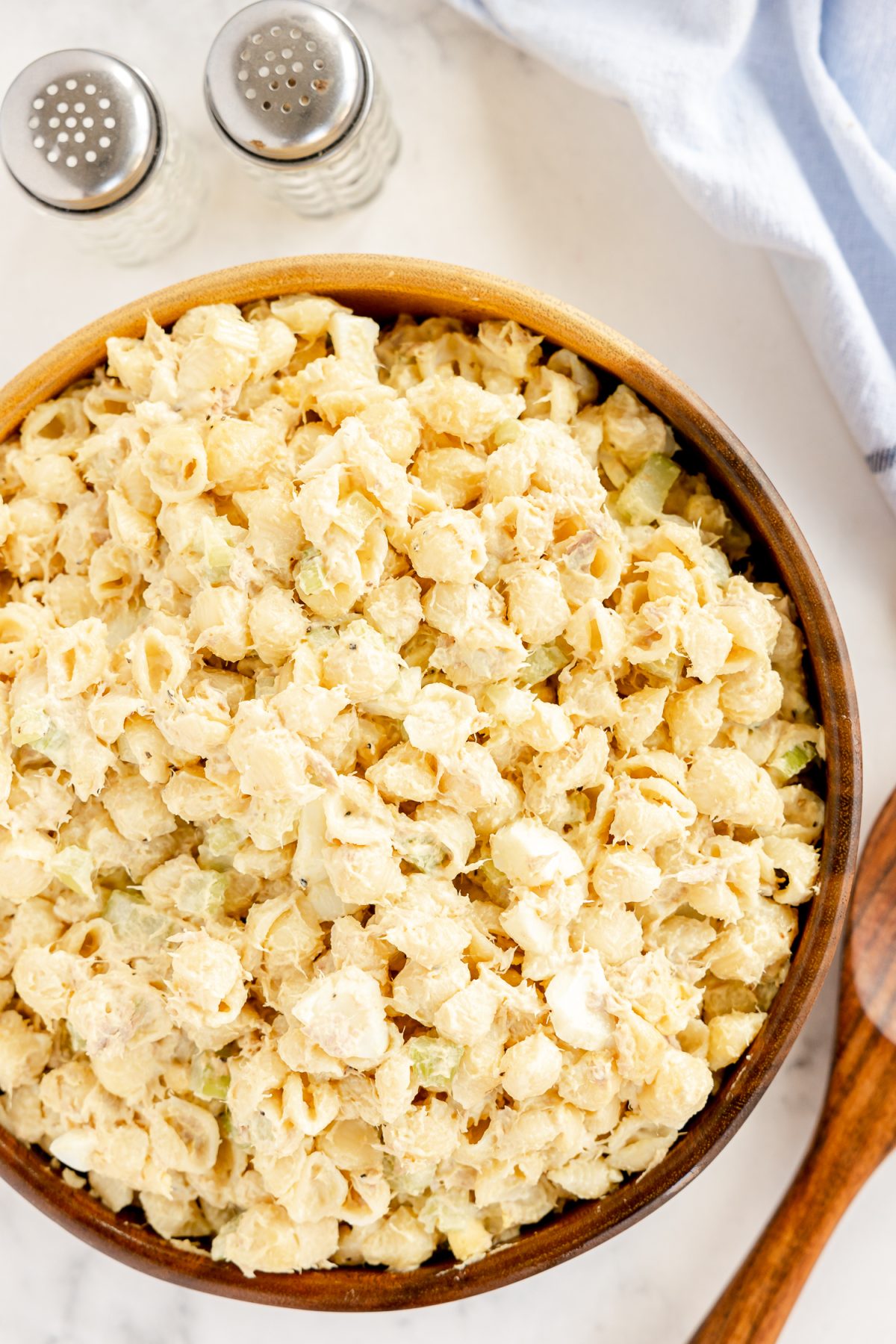 Ingredients for Tuna Macaroni Salad
Macaroni salad is such an easy summer dish to whip up. There are only a few simple ingredients. Find everything at your local grocery store!
1 (16 oz) box of small macaroni shells
2 cups of mayo
Celery stalks diced small
2 tsp onion powder
1 tsp garlic powder
1 ½ TBSP Yellow Mustard
4 hard-boiled eggs
2 regular-size cans of tuna, drained
Feel free to mix it up and add different noodles other than traditional macaroni noodles. Some people like to add green peas, green onions, and bell peppers to theirs as well. We chose to leave these out but had fun with your ingredients.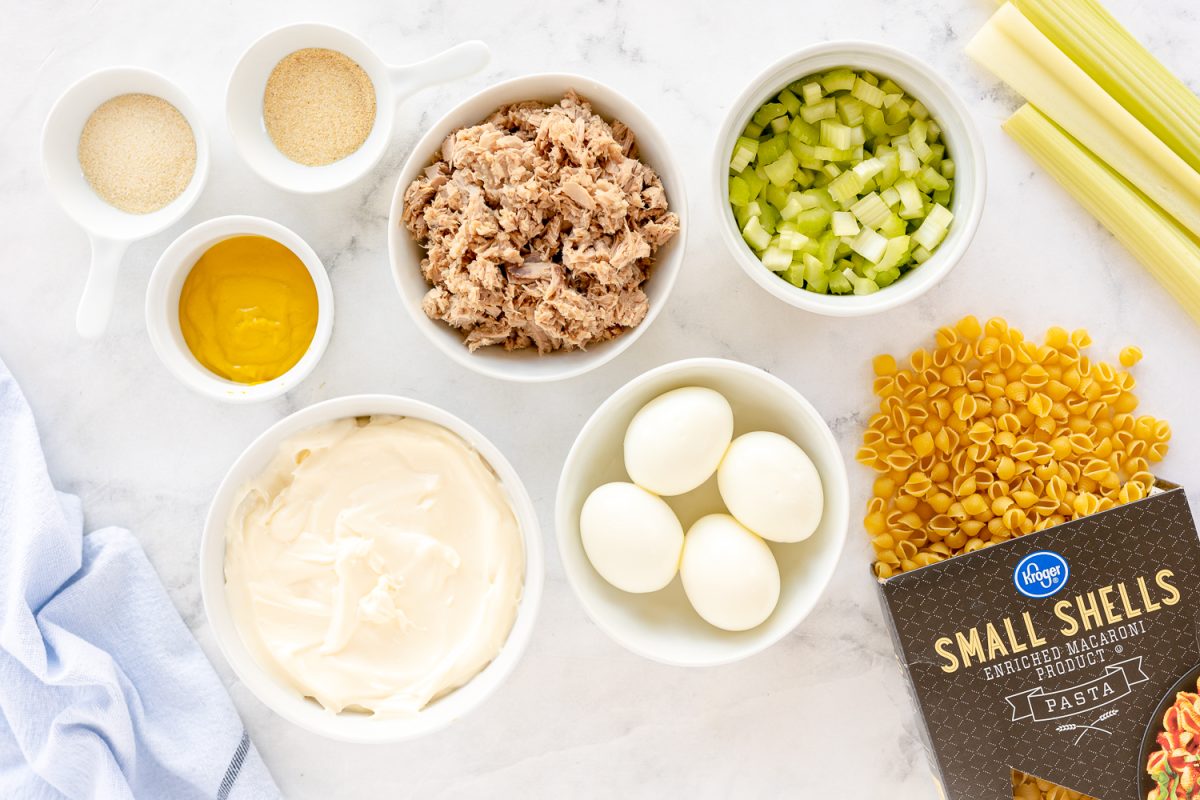 How to Make Tuna Macaroni Salad
This easy tuna macaroni salad can be made in about 20 minutes. You'll have delicious flavor in a bowl in no time.
Start by cooking your pasta according to the directions on the box. Don't overcook your pasta; no one wants mushy pasta. Cook macaroni so you have al dente pasta!
Drain the cooked macaroni and let It cool slightly.
Place the noodles in a large bowl.
Add the remaining ingredients to the bowl and mix until fully combined.
Refrigerate for at least 3 hours before serving.
If needed, add a Tbsp or more of mayo. Sometimes the noodles soak up the "sauce," and sometimes they don't
Add salt and pepper to taste!
Simple tip: Once your macaroni noodles are done cooking, rinse them in the sink under cold water. Place them in a colander or strainer and run cool water over them for a minute or two. Be sure to stir them around so they all touch the water. This helps cool them off faster so you can mix them into your other ingredients.
Any kind of tuna will do, but many prefer solid white albacore tuna or chunk light tuna. No matter which you choose, find good quality tuna for the best results. You want flaky tuna in your creamy tuna macaroni salad.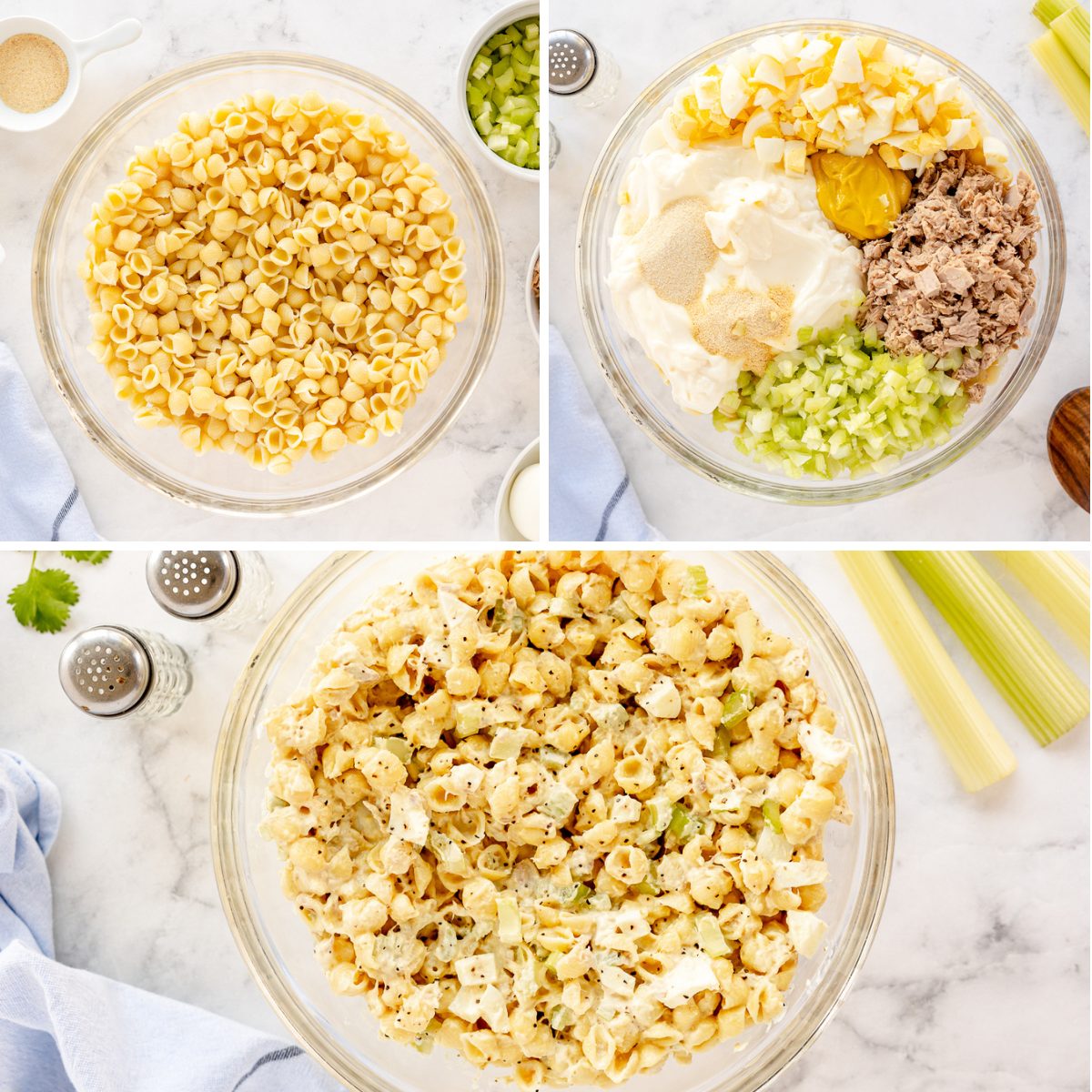 What to serve with Macaroni Tuna Salad?
Macaroni salad is a staple cookout side dish. So what do you pair with it as a main dish? Some family favorites are hot dogs and burgers, chicken sandwiches, and pulled pork! Add some chips and dip and more favorite side dishes for the perfect picnic spread or complete meal.
How long is tuna salad good in the fridge?
Keep your tuna macaroni salad fresh in the fridge for 3-5 days. Place the ingredients in an airtight container for optimal freshness, and eat it as quickly as possible. Sprinkle with salt and black pepper if you haven't already, and enjoy!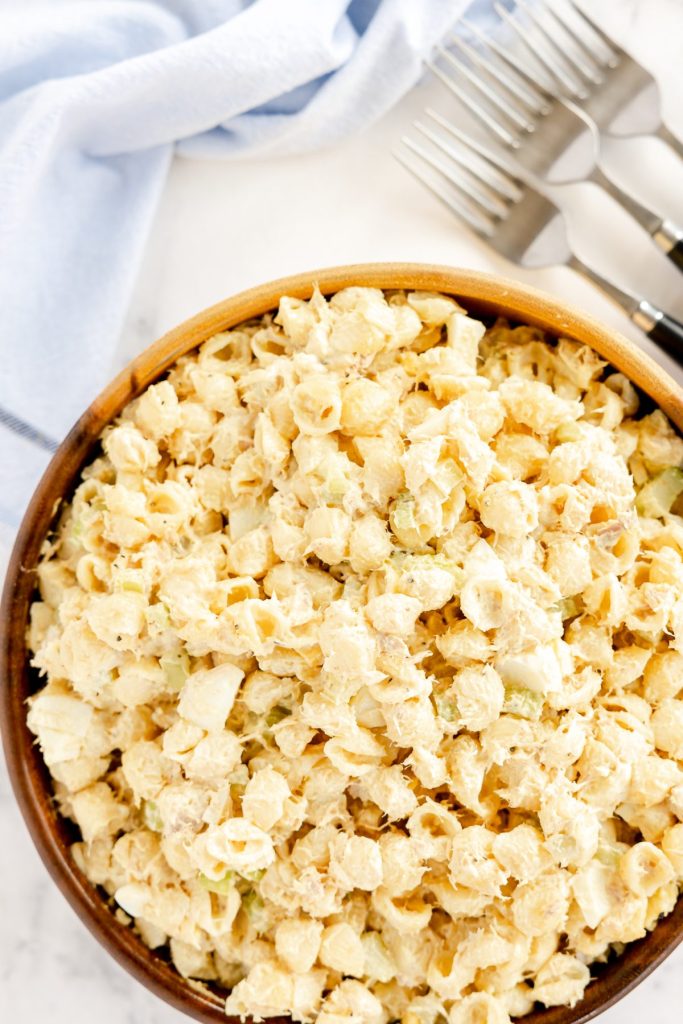 How to keep the macaroni salad from drying out
Every time you eat your salad, add a small scoop of mayo to provide some extra moisture. Eating it quickly also helps!
Another suggestion is to leave a little of the tuna juice in the bowl and give it a good mix before eating.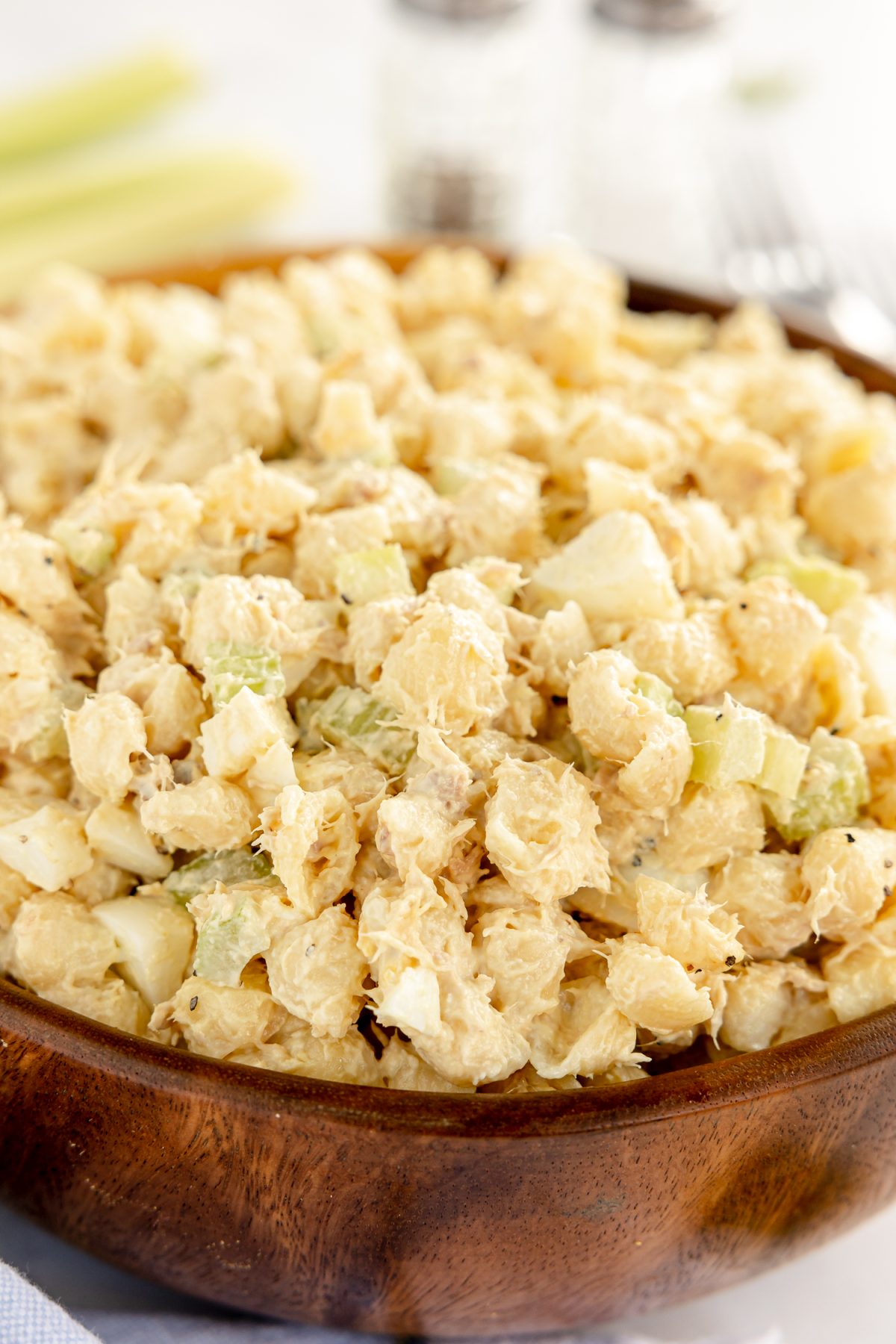 Can I add dill pickles?
I am a dill pickle lover, so I'm game for adding them to anything. While I haven't added them to this simple salad, it could add some nice salty flavor! Give it a try, and let me know how it tastes. If you don't love dill pickles, adding fresh dill may suffice as well!
Grab this simple recipe and whip it up for your next picnic or set it aside for a light lunch! I hope you enjoy this tuna macaroni salad recipe as much as our family does. It's the perfect side dish for any occasion and is sure to please any crowd. Add it to your list of favorite recipes and get cooking!
For more delicious recipes, try these!
Make some Classic Stromboli for a tasty lunch for the family. Chicken Salad also makes a delicious lunch option for the whole family. Kids and adults love this simple recipe. For those chillier days, try Homemade Chicken Noodle Soup!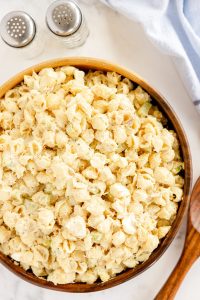 Tuna Macaroni Salad
This Tuna Macaroni Salad is a delicious classic family recipe! Noodles, canned tuna, and a creamy sauce makes or a simple side dish!
Ingredients
1

16 oz

box small macaroni shells

2

cups

mayo

2

celery stalks, diced small

2

tsp

onion powder

1

tsp

garlic powder

1 1/2

TBSP

yellow mustard

4

hard boiled eggs, diced

2

cans of in-water tuna, regular size
Instructions
Start by cooking your pasta according to the directions on the box.

Drain the cooked macaroni and let It cool slightly.

Place the noodles in a large bowl.

Add the remaining ingredients to the bowl and mix until fully combined.

Refrigerate for at least 3 hours before serving.

If needed, add a Tbsp or more of mayo. Sometimes the noodles soak up the "sauce," and sometimes they don't