A Mod Podge Pumpkin is a simple and pretty craft to create this fall season using pressed flowers, mod podge and a faux pumpkin.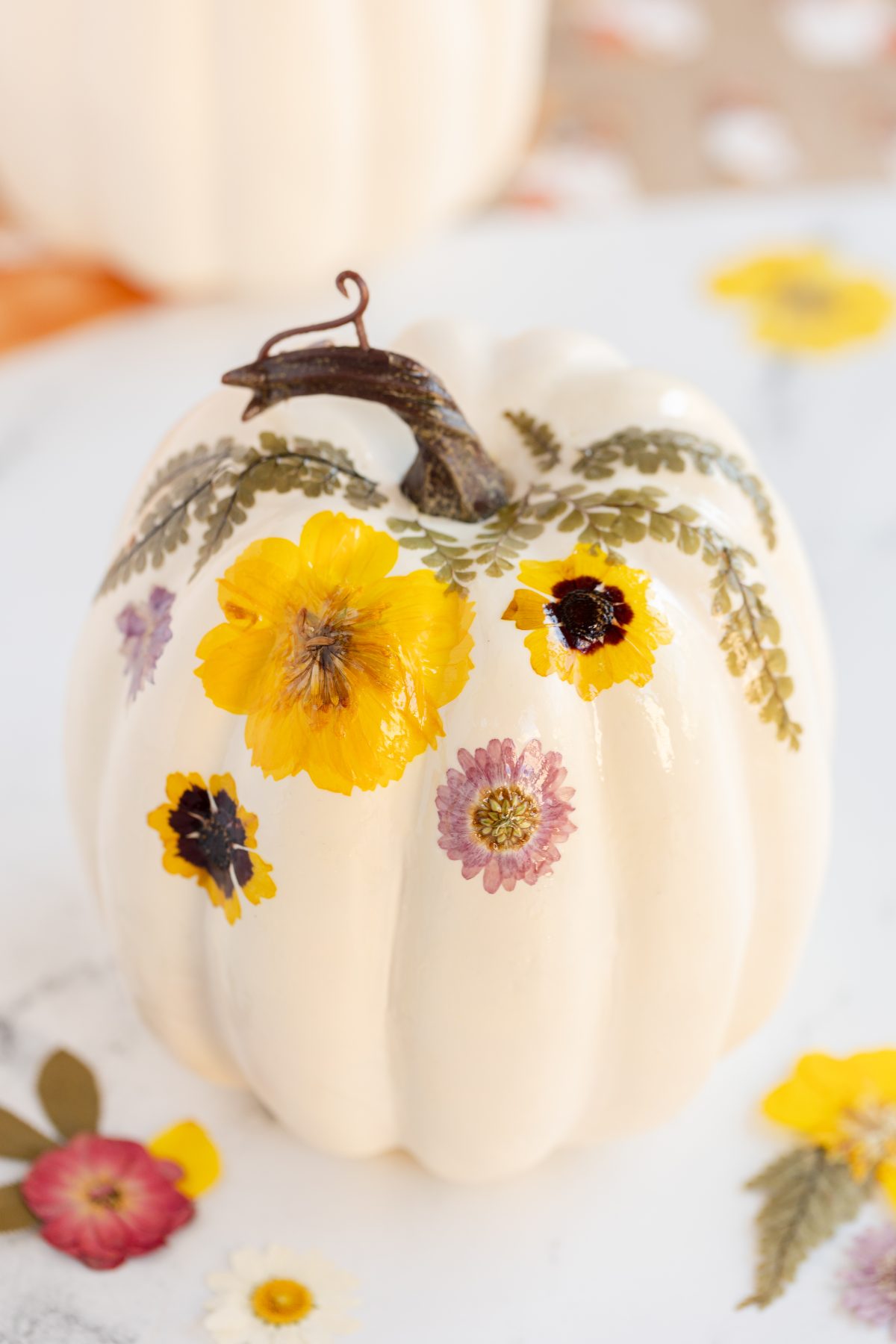 Oh what you can make with a faux pumpkin these days! We made these DIY Pumpkin Vases a few years ago and we decided to give a Mod Podge Pumpkin a try. My daughter loves flowers of all kinds right now and when we saw these pressed flowers we knew we wanted to make a floral pumpkin and we sure love how it turned out!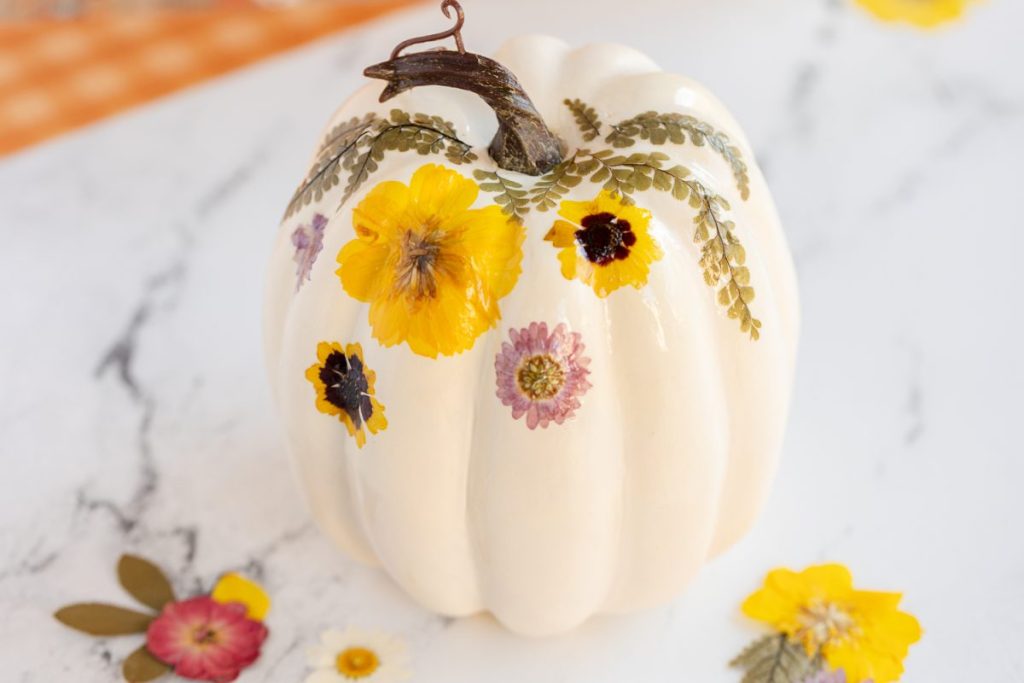 Materials Needed to Create Mod Podge Pumpkins
Find all of the craft supplies you need at Walmart, Amazon, or your local craft store this fall season. Grab as many as you would like to decorate your entire home or to gift to friends and family as the weather cools down this fall.
white craft/foam pumpkins – I bought these at Walmart
pressed wildflowers – I found a pack of 100 colorful ones – one pack can make 3-4 pumpkins depending on how many flowers you add to your pumpkin
Satin Mod Podge – I prefer this over the matte Mod Podge just for more shine
foam brush or regular paintbrush
If you can't find styrofoam pumpkins that you like, you can use faux white pumpkins (they are usually made of plastic) or any craft pumpkin you can find. I do recommend buying a larger pumpkin so you can cover it with more flowers. Mini pumpkins will work fine but you won't be able to decorate them as much unless you use smaller materials.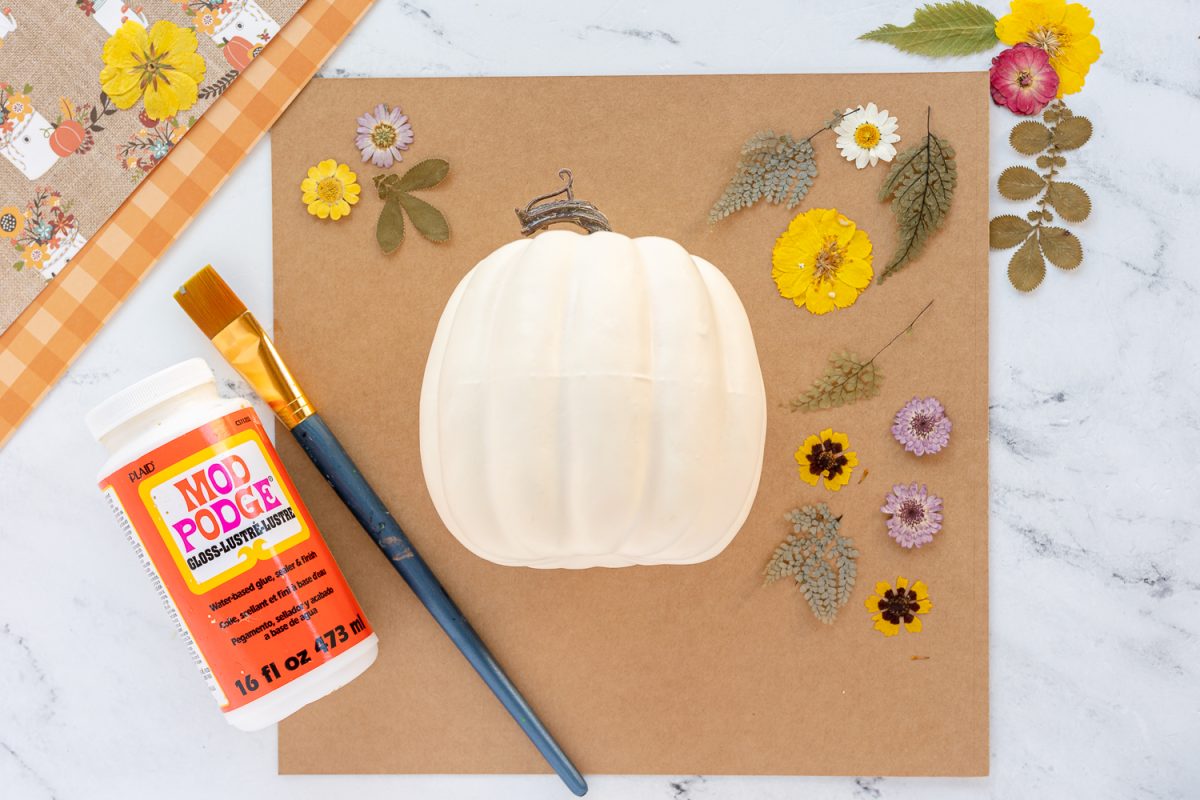 How to Create Your Mod Podge Pumpkins
Before pressing your flowers onto your pumpkin, I recommend laying them out on your work surface to see if you like the design. Then, you can add them one by one without having to undo anything. They are very delicate so the less you have to move them around the better.
Add a small amount of mod podge on your craft pumpkin where you plan to put a flower. Press the flower on top using your paintbrush. If you can, press the flower down from the center outward to avoid any air bubbles getting trapped underneath. You may want to hold onto them for a few seconds.
Add another layer of mod podge on top of the flower carefully, and continue with more flowers.
Keep adding flowers until you have covered enough of your pumpkin. Let it dry and enjoy!
For extra protection, add an even coat of Mod Podge around the whole pumpkin to protect it, especially if this pumpkin ends up outdoors.
TIP: Keep a damp paper towel or damp cloth nearby for drips or excess Mod Podge as it can get a little messy.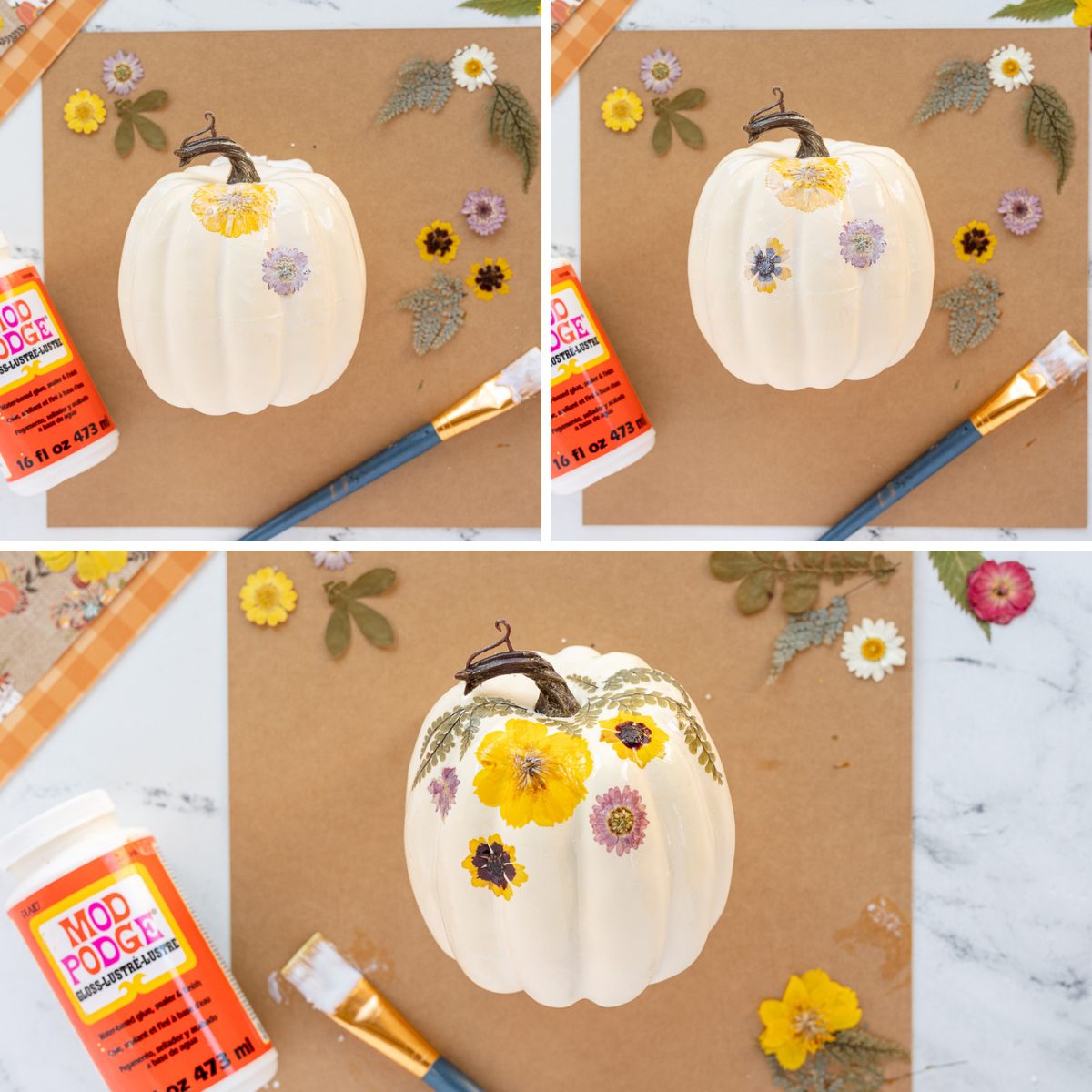 Can I Mod Podge a Real Pumpkin?
You absolutely can use a real pumpkin. Just keep in mind that the pumpkin won't last forever and you will have to toss it at some point. I used craft pumpkins so I could store them and put them out as decor year after year. If you want this to be an activity you do with your kids each year use real pumpkins! The kids will love covering the entire pumpkin with colorful flowers.

PRO TIP: Make sure your pumpkin is at room temperature when you add your flowers.
How to Mod-Podge a Napkin on a Pumpkin
If you have fall paper napkins, you can Mod Podge them onto your craft pumpkin for a fun design. All you need to do is cut out the design from your napkin and follow the steps as above. This is a great alternative if you can't find pressed flowers that you like or want to create something that is a little less more budget friendy. The decorative napkins will make a nice display for this pumpkin craft!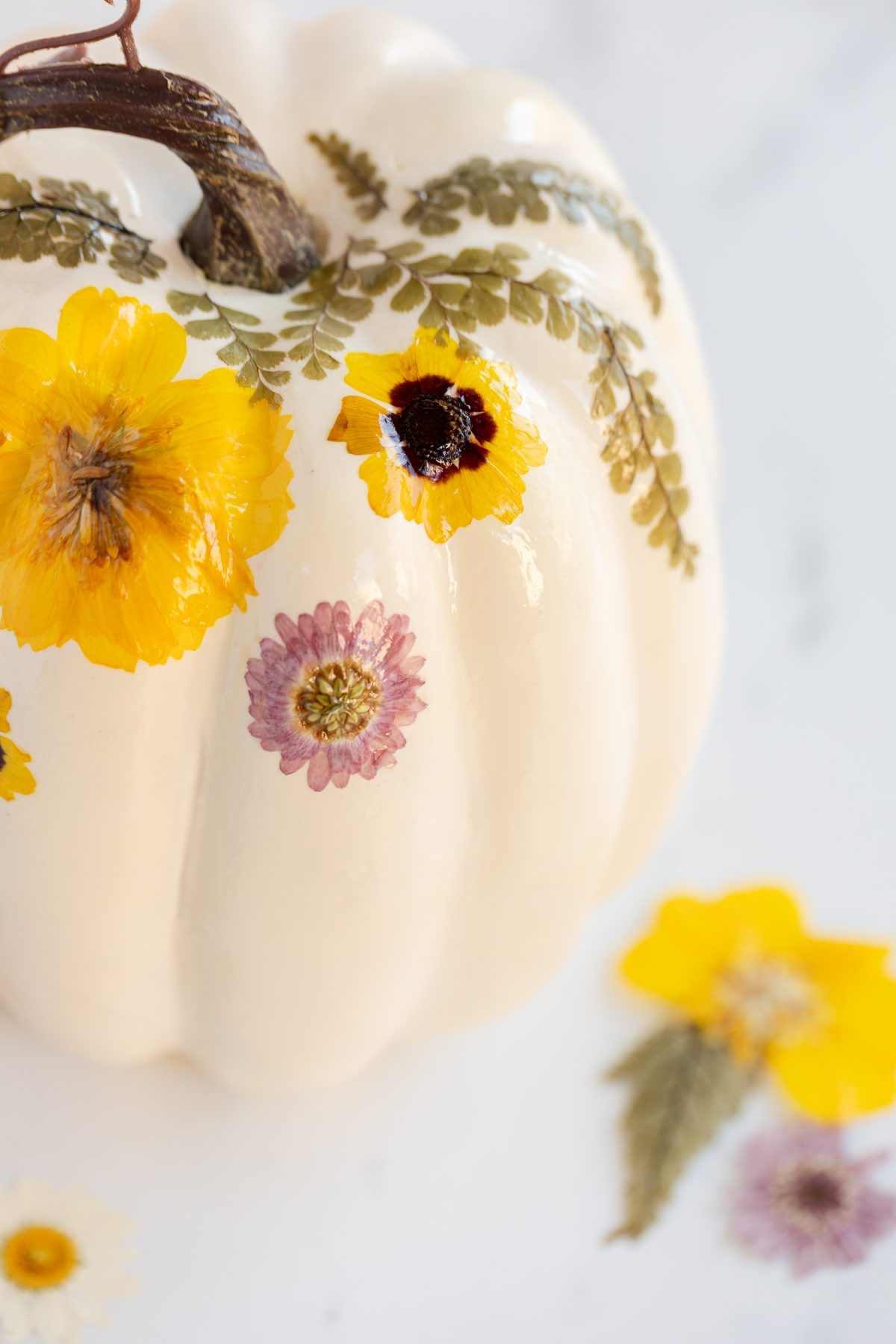 Other Ideas for Mod Podge Pumpkins
Here are some other ideas you can adhere to your craft pumpkins for lovely fall decor:
leftover fabric or fabric strips
fall leaves
strips of tissue paper (Mod Podge tissue paper pumpkins are an easy idea for little fingers)
scrapbook paper
cocktail napkin pieces
wrapping paper
paper strips
plaid crafts material
I hope you enjoy these DIY Mod Podge Pumpkins and can enjoy them with and without your kiddos! These decoupaged pumpkins will be a great addition to your fall decor this year and for years to come. Happy fall and happy Mod Podging!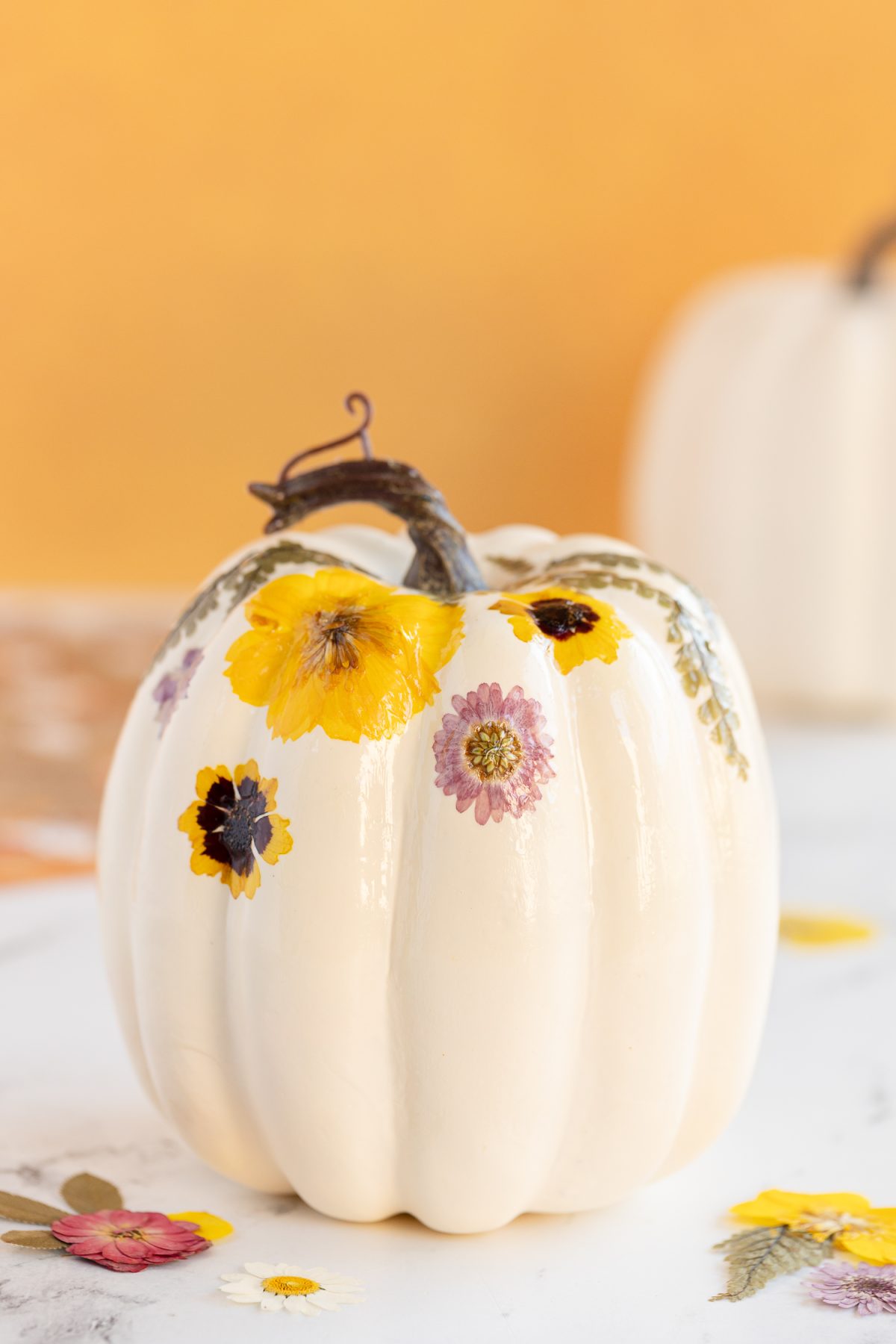 For More Pumpkin Crafts, take a look at these ideas: