This garlic honey shrimp is so delicious and easy to whip up. Garlic, honey, and fresh lime juice are the stars in this flavorful marinade. The ideal dish for a summer cookout!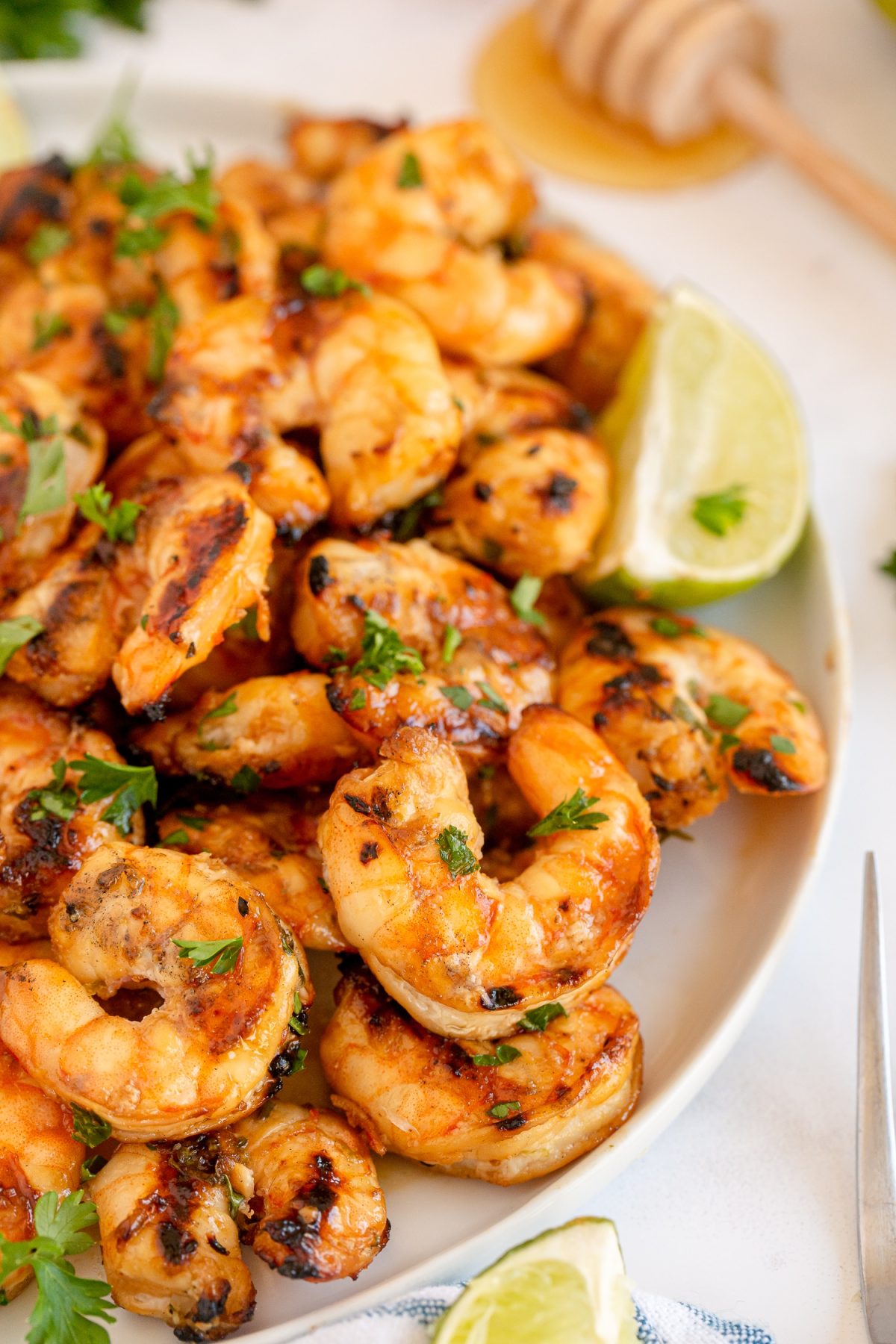 Delicious Garlic Honey Shrimp
I love a good marinade. It's an effortless way to give any meat tons of flavor. All it takes is a little planning ahead, since the marinade needs to sit for a couple of hours to have the full effect. Other than that, it's just a matter of mixing up the marinade and cooking! How easy is that?
Speaking of marinades, my all-time favorite has to be the one used in my Honey Lime Grilled Chicken recipe. It delivers the perfect balance of savory, zesty, garlicky, and sweet. Plus, it makes the chicken so juicy! I love that grilled chicken recipe so much that I wanted to see if I could use the same marinade in other dishes. And friends, I found a new winner!
This easy garlic honey shrimp features the marinade from my honey lime grilled chicken recipe, and it works so well with the fresh shrimp flavor. It is so simple to make, but it tastes like you put a lot of effort into it. Garlic honey shrimp is a great dish to enjoy on a warm summer night with family and friends. Kids love it, too!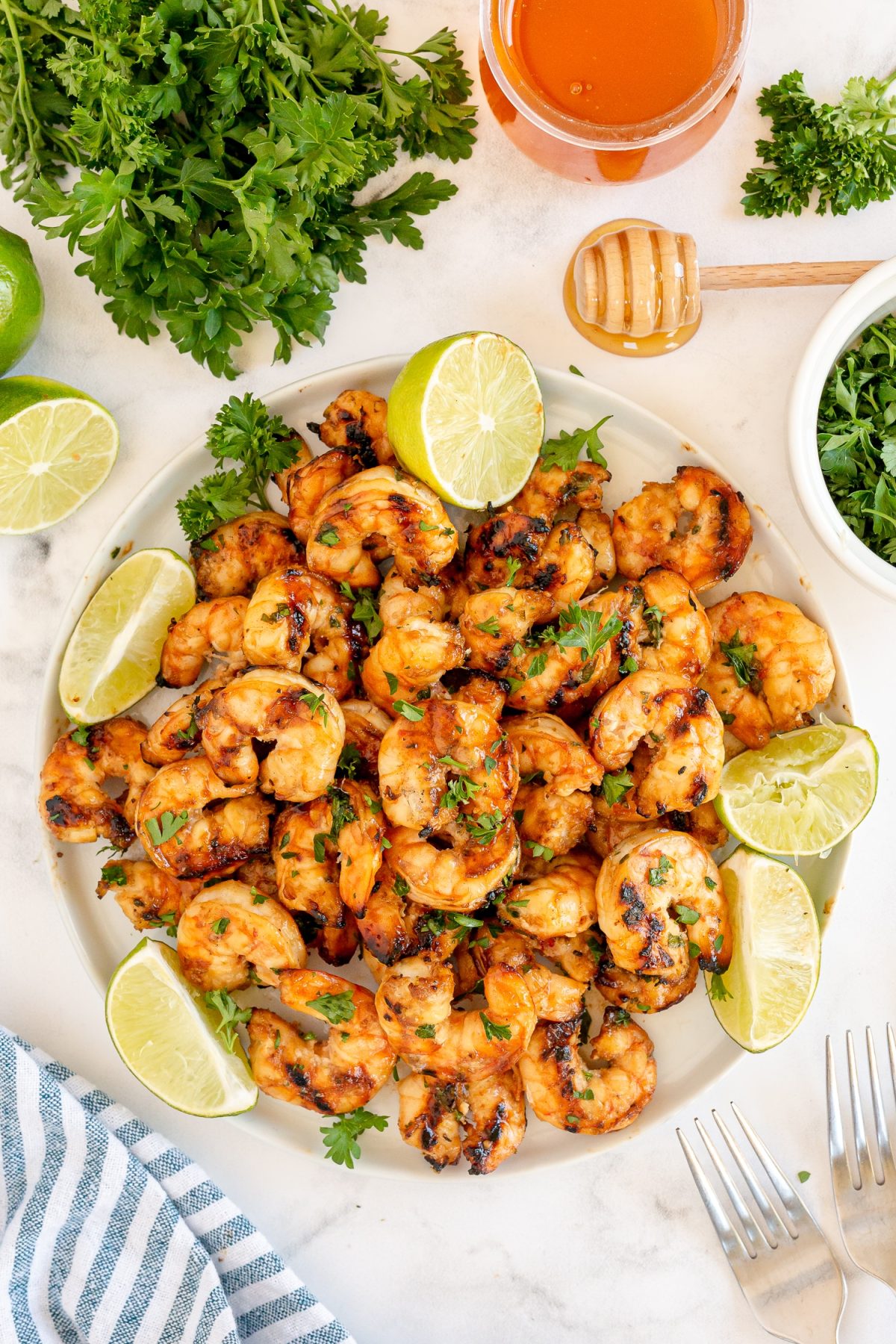 This garlic honey marinade requires several ingredients, but most of them are pantry staples that you likely already have at home! Here is what you will need:
INGREDIENTS FOR HONEY GARLIC SHRIMP
Raw shrimp, peeled and deveined — We use medium or large size, but use whatever is available at your local grocery store!
Fresh lime juice and zest
Light brown sugar
Honey
Soy sauce
Worcestershire sauce
Minced garlic and onion powder
Fresh parsley
How to make Garlic Honey Shrimp
Place your peeled and deveined shrimp in a gallon-sized bag. You can also use a baking dish. It's best to marinate the shrimp in a container with a flat bottom, which allows the marinade to work its magic on each and every shrimp.
Mix together all of the marinade ingredients. Reserve 2 tablespoons of the marinade. This will be brushed onto the shrimp as they cook!
Pour the remaining marinade all over your shrimp. Mix everything together so that the shrimp are evenly coated.
Marinate the shrimp for 1-2 hours
Once they've finished marinating, discard the marinade and cook your shrimp in a skillet or place them on a skewer and pop them on the grill. Shrimp don't need long to cook, so watch them carefully! They only need about 2-3 minutes on each side. When they are halfway done, brush the reserved marinade on your shrimp.
How long do I have to marinate the shrimp for?
This recipe calls for 1-2 hours of marinating. I highly recommend letting the shrimp marinate for the full two hours, since that will give you the most flavorful result. However, you could let the shrimp marinate for as little as 30 minutes. It won't taste exactly the same, but it will still be delicious! This is great for evenings where I'm in a rush, as I know I can still produce a great dish with less time to spare.
Can I use frozen shrimp for this recipe?
I prefer using fresh shrimp when making this recipe, but you could definitely go with frozen. Just be sure to defrost your shrimp prior to marinating them. You can thaw frozen shrimp by placing them in the refrigerator overnight. For a quicker method, place your frozen shrimp in a colander and run cold water over them. Make sure it's cold! This method only takes a few minutes, so it's great for last minute prep.
What can you serve with garlic honey shrimp?
I'm all about the side dishes, and this garlic honey shrimp recipe is the perfect main course to accompany with plenty of extras. You could serve this garlic honey shrimp with a side of white, brown, or coconut rice. This dish would also pair nicely with vegetables or side salad! Here are a few of my favorite summer recipes to serve garlic honey shrimp with: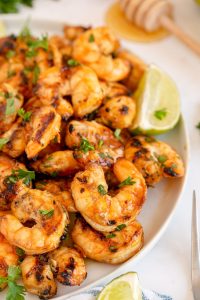 Easy Garlic Honey Shrimp
This garlic honey shrimp is so delicious and easy to whip up. Garlic, honey, and fresh lime juice are the stars in this flavorful marinade. The ideal dish for a summer cookout!
Ingredients
2

lbs

raw shrimp, medium or large

peeled & deveined

1/4

cup

fresh lime juice

1

lime, zested

1

TBSP

light brown sugar

2

TBSP

honey

2

TBSP

olive oil

2

TBSP

soy sauce

1

TSP

Worcestershire sauce

1

tsp

minced garlic

1/4

tsp

onion powder

1

TBSP

fresh parsley, finely chopped

salt & pepper

to taste
Instructions
Place shrimp in a gallon size bag, or baking dish.

Mix together marinade ingredients. Reserve 2 tbsp.

Pour remaining marinade over chicken.

Discard marinade and thread shrimp onto skewers.

Grill shrimp on medium to high heat until pink and cooked through. Roughly 2-3 minutes per side. You can also pan fry these in a touch of butter.